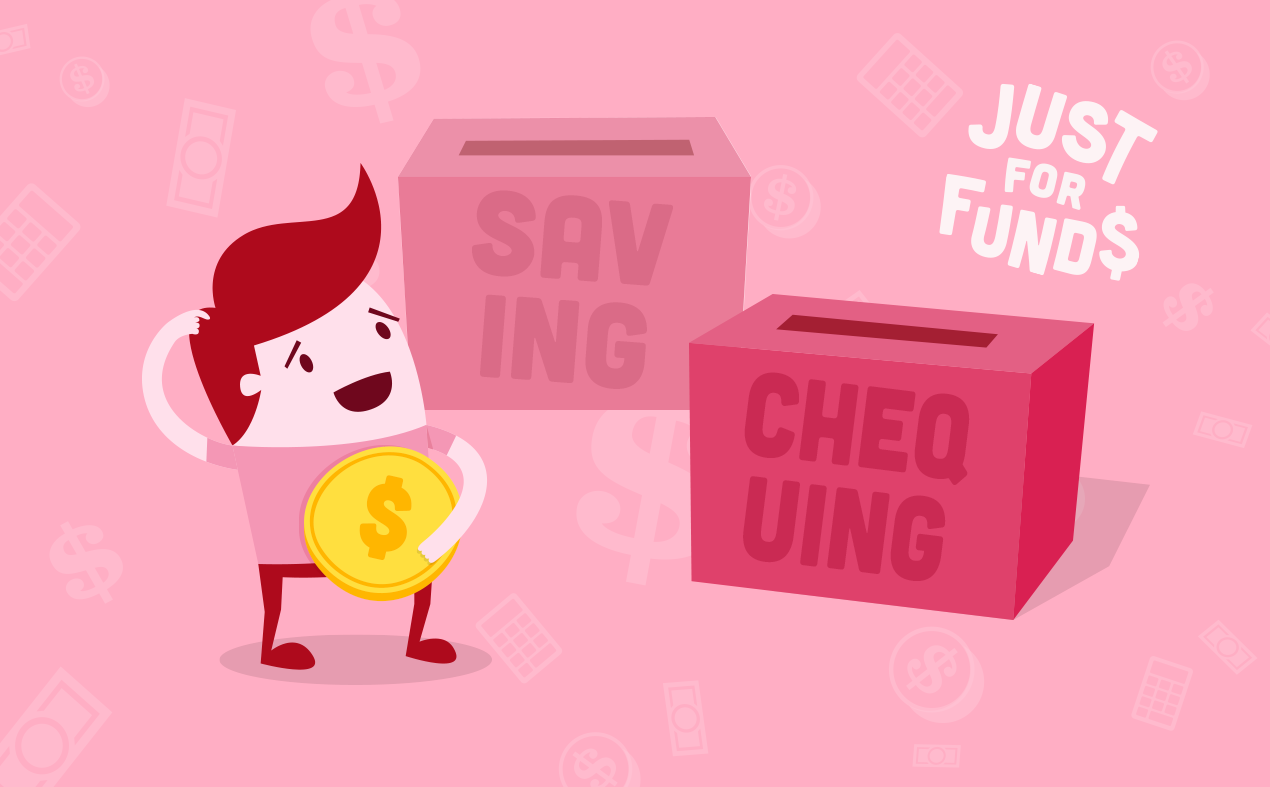 Bank Accounts 101: Getting the Most Bang For Your Buck
You're about to get the lowdown on everything dollars and cents, and in doing so, could win* $1,000 every week for the next 10 weeks in our Just for Funds contest!
Bling, bling, money IS a thing. A thing we need. A thing we have. A thing we want more of. But most of us don't know what the heck to do with it. There was no "Personal Finance 101" class in high school, and now, our bank statements read like a bunch of gobbledygook and bank tellers sound like they're speaking gibberish.
Well, we're going to be like Drake and start from the bottom in our personal finance quest with (drumroll please) BANK ACCOUNTS.
If you're new to the world of banking, you may be unsure about where to park your money. So, let's start off by learning a little bit more about what's what.
A Chequing Account – For Now
Think of this account as your wallet. It contains the money you have right now, and is used for everyday spending (like using your debit card, depositing your paycheques, withdrawing cash and sending Interac e-Transfers®.) Keep in mind that because these accounts are for your day-to-day spending and your money isn't meant to stay there for long, they usually earn little or no interest.
(Cheat sheet: Interest is money the bank pays you regularly to keep your money there.)
Important things to consider in a chequing account:
. How many transactions¹ can you make each month? (Cheat sheet: a transaction is when you pay for something/take money out of your bank account or put money in)
. Is there a monthly fee?
. Is there a limit on the number of Interac e-Transfers you can send?
. Is there a minimum amount to send Interac e-Transfers? (Like, if you owe a bud $3 for a coffee, can you send it to them via Interac e-Transfer or do you have to scavenge for change because you can only send $10 and up?)
As students, we have the luxury of chequing accounts with no monthly fees, unlimited transactions and unlimited free e-transfers with no minimum amount requirements from CIBC. File that under "Pretty Sweet" and take advantage while you can!
A Savings Account – For Later
Think of this account as a safe. You park your money here and make it grow so you can use it in the future. Want to buy a car? Pay your tuition? Take a trip? Money for these future goals should be kept in this account. It's also a good place to stash an emergency fund. Why? Interest. (Remember…it's the money banks pay you for keeping your money with them). The longer your money stays put, the more interest (read: money) you earn.
Key things to consider in a savings account:
. How many monthly transactions can you make?
. Is there a minimum amount you need to keep in it?
. Will you be charged a monthly fee?
. Are there bank account fees attached, like when you need to take money out?
. What interest rate does the bank offer?
Not all accounts are created equal, so make sure you ask questions and find out what's best for you. To stay up to date with all of your accounts, CIBC offers both online banking and an app that you can use on the go to keep track of all your banking needs.
Still feeling unsure about which account(s) you need? Luckily, CIBC is there to help! On their website, you will find a tool that allows you to compare accounts and find the best account for you.
Think you know your bank accounts now?
Your Chance to Win $1000
Test your knowledge. Take this pop quiz and you'll be in the running to win this week's $1K prize.
General information not about CIBC Financial products is provided for your reference and interest only. The above content is intended only to provide a summary and general overview on matters of interest and is not a substitute for, and should not be construed as the advice of an experienced professional. CIBC does not guarantee the currency, accuracy, applicability or completeness of this content.
**No purchase necessary. Contest open July 28, 2017 to October 5, 2017 to legal residents of Canada 16+ who are current students of an accredited Canadian university, college or secondary school. Ten (10) prizes available to be won, each consisting of one (1) $1000 cheque. One (1) prize is available to be won per Challenge Period. Odds of winning depend on number of entries received per Challenge Period. All amounts in these Rules are in Canadian dollars. Math skill-testing question required. Full rules available here.
1 A transaction includes cheques, withdrawals, transfers, pre-authorized payments, bill payments (including CIBC Credit Cards and CIBC Personal Lines of Credit) and debit purchases. For CIBC eAdvantage® Savings Accounts, a transaction does not include transfers to your other CIBC bank account(s) using the transfer function on CIBC Online Banking® and CIBC Mobile Banking®. Additional fee(s) apply to withdrawals from non-CIBC bank machines and transactions in foreign currency (including cheques written in currencies other than the account currency).
*Interac e-Transfer® is a registered trademark of Interac Inc. used under license.