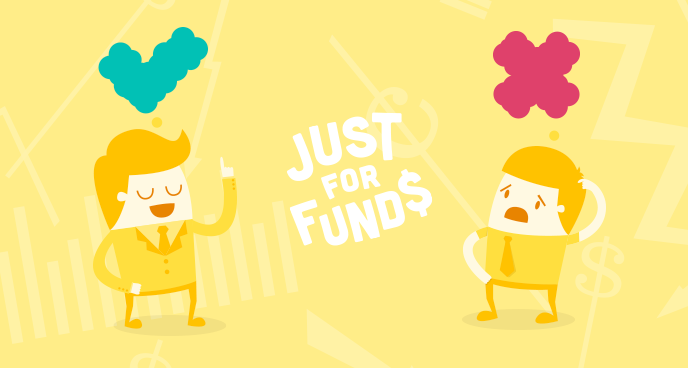 Credit 101: How it Can Help You and Hurt You
Learn how to make credit your BFF instead of your enemy and get a chance to win $1,000 in Just for Funds.
As students, we're often bombarded with horror stories about the dangers of debt and (cue spooky voice) "BAD CREDIT." Well, spoiler alert: Bad credit could crush your dreams and haunt you for life.
BUT (you can come out from hiding under that sheet now) – if you use credit responsibly – it will actually help you get awesome things you want like a loan, a house or a car! So, let's look credit straight in the eye find out how it can help us instead of hurt us.
Okay, what exactly is credit?
Credit is when a bank gives you money to use now based on the trust you'll pay it back later. Think of the bank like your friend. If your friend lends you $10 and you pay them back when you said you would, they'll likely lend you $10 again. If you don't pay them back, next time you ask they'll be like, "Nah, sorry dude." Same goes for credit.
What is interest?
Interest is the money that a lender (like a bank) charges you for borrowing money. In most cases, credit cards will give you a "grace period" on purchases you make where no interest is charged on what you borrow.
So imagine your friend who lends you $10 says, "If you pay me back this month, you can pay me $10, but if you pay after the end of the month you'll have to pay me $11." So interest is the money you pay if you hold a balance (meaning you don't pay off your credit card every month).
On the flipside, when you have a chunk of money in a savings account, the bank pays YOU interest for keeping your money there so they can use it for investments and to give people loans.
What's the difference between credit history and credit score?
Your credit history is like a resume of all the financial choices you've made. It includes things like your payment history, how much debt you have and how long you've been using credit. Your credit score – a number between 300 and 900 – is like a grade on your report card that shows how good you are at following the lender's rules. It's used to determine what kinds of loans and interest rates you'll qualify for. The higher the score, the better.
So, why do you need good credit?
When it comes to applying for cell phone plans, getting car insurance and later on when it's time for some big-ticket items to be purchased, it's essential that you have some credit history established to prove you're financially responsible. (You basically need to have proof you won't ghost people when they give you money.) Your prospective employers and landlords can and will check credit ratings to make sure you make smart decisions.
Okay, so how do you start building good credit?
.Pay on time– It's important to make sure you pay your student loan, and credit card bills on time. Every time. Late payments can seriously damage your credit rating. And the longer you wait to pay, the more interest will accumulate and the more money you will owe.
.Don't spend money you don't have – Got approved for a $5,000 limit credit card? Feel like you hit the jackpot and suddenly have free money in your pocket? Hold your horses, big spender. That's just the maximum amount you can borrow, and you'll have to pay it all back. When you make a purchase on your credit card, get into the habit of jumping online and transferring that amount from your bank account to bring your balance down. Overspending will just dig your debt hole deeper.
.Keep your outstanding credit card balance low– Leave lots of space between your outstanding balance (what you owe) and credit limit (maximum amount you can borrow). And never exceed your credit limit! To maximize your credit score-building ability, try to keep your spending between 30 and 40 percent of your monthly limit.
.Avoid cash advances– Using a credit card for quick cash is expensive, since interest is charged on the money from the day you borrow it (there's no grace period as mentioned above). But do keep in mind that cash advances are available – and a handy way to get out of an emergency situation.
Start building credit with a credit card:
Strangely enough, not having a credit card can negatively affect you almost as much as having bad credit. A great way to start building your credit is to get yourself a credit card and start making regular purchases. Use it instead of your debit card to start racking up credit and sweet points and rewards. Whether it be for travel, shopping or other student discounts, there are so many different kinds of cards available. It's just a matter of choosing which perks best suit you. A great option for students is the CIBC Dividend Visa, that lets you earn cash back just from buying groceries. I mean, hey, we all need to eat!
If that one isn't your best fit, CIBC offers a handy tool to help you figure out exactly which card is the one for you, and the ability to compare them all online. Students can take advantage of five different cards with various offers, including some with $0 in annual fees. (BTW coffee and doughnut aficionados, CIBC offers a Tim Horton's credit card…just sayin'!) And avid travelers should check out the Aventura card (you earn points you can use when booking flights etc.)
Feeling a bit better about credit?
Your Chance to Win $1,000
Take this week's challenge and you'll be in the running to win this week's $1K prize.
General information not about CIBC Financial products is provided for your reference and interest only. The above content is intended only to provide a summary and general overview on matters of interest and is not a substitute for, and should not be construed as the advice of an experienced professional. CIBC does not guarantee the currency, accuracy, applicability or completeness of this content.
**No purchase necessary. Contest open July 28, 2017 to October 5, 2017 to legal residents of Canada 16+ who are current students of an accredited Canadian university, college or secondary school. Ten (10) prizes available to be won, each consisting of one (1) $1000 cheque. One (1) prize is available to be won per Challenge Period. Odds of winning depend on number of entries received per Challenge Period. All amounts in these Rules are in Canadian dollars. Math skill-testing question required. Full rules available here.